Update: Dr Goldacre has taken exception to this interpretation of his remarks in the I, Science interview. We would like to make absolutely clear that Dr Goldacre does not advocate the sacking of all science writers.

However, I genuinely did read his remarks to mean that he believed we should reduce science writers considerably and that 'unmediated' communication from scientists to the public, with no science writers at all, was ultimately the ideal. The headline was intended to be a pithy summary of my counter view. Obviously Dr Goldacre feels that was not what he meant. If he would like to explain his views on the future of
science writing then I'd be happy to hear them.
Regardless of any connection with Dr Goldacre's views, I think it's important to make the arguments for the value of a mixed ecology of science communication. And that is what the post is actually about, so I feel the points I make still stand.
In an interview with I, Science, Ben Goldacre outlines his theory that we should replace science writers with practising scientists writing about their area. Dr Goldacre argues that scientists themselves bring a depth of knowledge and insight that can't be rivalled by the generalist science writer.
Because people who work actively in a field of science, they know that field backwards. Their distractions and the nuances of their language and the diversions they drift off in as they write, and their ability to spot the flaws in somebody's case will be head and shoulders above somebody who's just come to it, spending four or five hours working on it, on that one day.*
He suggests that instead of professional science writers we should have armies of editors helping the scientists to structure and express their thoughts.
Now I think there are some good points here, worth bearing in mind. An example I often give when explaining the value of I'm a Scientist, is of Sam Mugford, of the John Innes Centre, who took part in the pilot event back in 2008. Sam studies plant biochemistry, specifically the mechanisms that allow oat plants to resist infection by a particular fungus.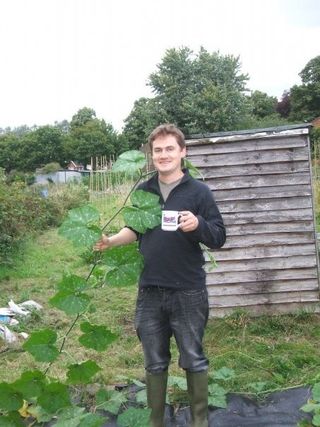 It's fair to say Sam (pictured) is obsessed by plants. One day, he was trying to convey this in a live chat and said "The interesting thing about plants is that they can't run away".
He explained that while animals can run away from predators and hide, plants can't, so they have to find some other means of defence. This, therefore, is why they've evolved all sorts of things, from thorns, to leaves impregnated with hallucinogens, and ultimately, it's a big part of why their biochemistries are so fascinating.
This really stuck with me for days afterwards. The simple fact that plants can't run away. And that this seeming truism meant something. I found myself thinking about it while watering the pots on my patio.
I mean it's something we all know of course, but Sam's depth of understanding of the subject had given him the clarity to express why this was a key fact, and to see (and explain) that so much else followed from it. I'm not sure a generalist science writer would have this same insight unless their interviewees mentioned it.
This is precisely why I agree with Ben that there is an enormous value in scientists communicating their own work. There are possibly things that only someone really steeped in the field can do. But there are also things that only people not steeped in the field can do, and those things have value too.
A student in the last I'm a scientist asked the classic
'If a tree falls in the forest' question
 to the scientists in the Brain Zone. No offence to the lovely scientists, but I thought their answers were surprisingly literal. A philosopher, or a poet, or perhaps a quantum physicist might have given very different sorts of answers.
I don't think it would make much sense to sit there and argue about which of these answers was 'right'. I think they're all valid ways of thinking about the question, and they all add a different perspective. As my old lecturer
Joan
used to say, you can't tell the shape of a house from only seeing a photo of the front. You can tell a lot more by looking at it from the sides, the back and from above too.
Of course the neuroscientists who answered the student's question think about things in literal, physical terms. That is the type of explanation they deal in. It's their job, it's what we want them to do. But there are other ways of looking at things that add something to our understanding.
I think good science writers can look at a topic anew, interview a range of people and bring together those other perspectives. And I think that's often useful.
Such generalist science writers do, I'm sure, have their shortcomings. But so do experts. What's wrong with having a mixed ecology? As a biology graduate I'm perhaps overly prey to biological metaphors, but I know that a diverse ecosystem is a healthy ecosystem. When a plethora of niches are filled, there's more likely to be something, somewhere, filling any gap.
*I'd like to also briefly take issue with this picture of science writers spend a few hours working on a story. I'm not having a go at Dr Goldacre particularly, it's a shorthand that often comes up in this kind of conversation, but I think it risks missing some of the picture.
Yes, that's often true of a newspaper science correspondent (although they will have interests in certain stories or topics and follow them over time), but this isn't the only sort of lay science communication in the world. A feature writer might spend weeks, off and on, researching a topic. A documentary maker might spend months. Let's not over-generalise our complaints about science in the news to all other forms of science writing.