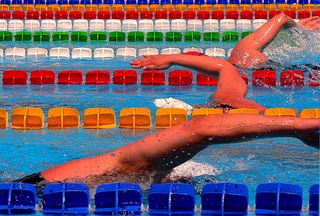 A friend and colleague of mine, @gilest, tweeted about a report in our local paper about Wiltshire Council reviewing leisure facilities and the "imminent" closure of the Bradford on Avon swimming pool. Our brand new MP, @duncanhames picked up on the "terrible news", but pointed out it has been planned for 18 months. A local councillor has started a petition to pressure the council to "Save Bradford on Avon Pool".
Swimming pools are expensive to run. When you open them to the public and have to staff them, then they become very expensive. There are normally about 6 staff or so on duty, plus an administrative team at a headquarters in Bagshot, Surrey. Every week my daughter has a swimming lesson there. About £5 for 30 minutes. It's not cheap, but the lessons are normally full.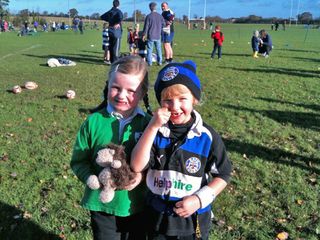 During the winter, she plays rugby every Sunday. (She has an Ireland shirt, of course.) She plays, come rain or shine, for 90 minutes. Roger, the coach, does it for the love of rugby. He's helped by some of the Dads. A few Mums cook bacon sandwiches for afterwards. Pete, the club secretary, opens the bar at 11am, for soft drinks, mostly. The coaching costs £1 per week.
The swimming pool is run by DC Leisure Ltd. on behalf of Wiltshire Council. I don't know how much the council contributes towards the running of it, but I guess it is not insubstantial.
The Bradford on Avon Rugby Club is run by volunteers. They get some money from Sport England (I presume) and sponsorship from local businesses. Most of the cost of running the club is met by the membership fees and bar takings.
That, to me, is what Big Society* is about. It is about hanging a name on something that happens in cities, towns and villages up and down the country. It is about opening people's eyes to different ways of doing things. I don't think it is a new idea.
Giles and I sat down, last week, for a coffee to talk about the news. I suggested that he get a few people together and start planning how the community could run the pool. I suggested that by taking the initiative the town would be in a better position to keep the it as a going concern. He could create a community group that works like the Rugby Club. A group that relies on the efforts of its members, rather than the cost structures of a company in Surrey. That can adapt for the needs of it's local town, rather than rely on the pressures exerted by the whole county.
That is what Big Society is to me. Local people taking control of their local facilities and making them work. The swimming pool as we know it will close. We need to choose if, we as a town, want to keep it. It needs to become our swimming pool, not the council's. Big Society isn't about closing council run facilities. They are going to close anyway. We can't afford them. Big Society is a way of keeping them open.
Some commentators have questioned whether enough people have enough time in order to run these facilities.  The people who care passionately about the rugby club find time. The people who care passionately about their estates join the residents groups. The people who care passionately about education run the parents' associations and join the board of governors.  We'll find out soon enough how passionate people are about keeping their post offices, museums and, of course, swimming pools.
*Big Society really is a crap name, but I can't think what to call it either. I've long railed against the idea of encouraging people to volunteer.  People don't volunteer per se. They offer to run schools, clubs, charities for free.