At least let's stop using the word blog.
I was in Diss, Norfolk last night as part of our www.norfolkhomepage.org.uk project.  We had invited various community organisations to the library to learn about how they could get involved in the project.  Primarily we showed people like Trevor that he could easily set up a blog for his Diss Badminton Club to help get new members and build more of a club around his existing membership.  We explored ideas with Kevin about how the Mere Players could make more of their newsletters without abandoning their existing Flash based site. With a blog they'll soon feature in the top searches for Diss Drama.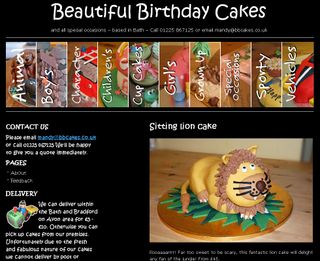 To help explain the power of using a platform like WordPress I showed people the site I created for my wife – beautifulbirthdaycakes.co.uk.  I explained how that previously her Flickr site had received 2,000 views in a couple of years through the Flickr community, through friends and through flyers.  With a GoogleLocal listing she got some traffic through Google.
Her new site created on WordPress however is just six weeks old.  Already she has had over 2,000 visits, over 7,000 page views and business has gone through the roof.  She is on the front page for Google and Bing searches on "Birthday Cakes in Bath" and that will only improve.
What struck me last night, and not for the first time, was that people still have this ingrained view of what a blog is.  When I showed the cake site to one lady she blurted out, "That's not a blog! A blog is boring with lots of text."
WordPress.com still promotes itself to bloggers and offers:
"Express yourself. Start a blog."
It's a website that is easy to update and optimised for search engines.  End of.  Let's not label it with something that puts people off.