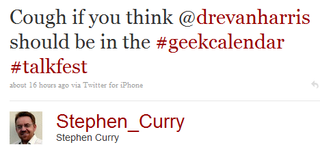 I can't recall who was speaking when the #GingerNinja struck last night, but I felt sorry as I joined half the room in coughing and laughing at the same time.
#Talkfest was an evening for science bloggers to get together and talk about their blogging.  It was fun, funny and interesting. We had discussions on the Twitterwall about whether scientists had a duty to engage with the public. Discussions in the room about whether bloggers (in particular science bloggers) should be paid to blog – yeah, why not, worrying trend is those paying to blog without due disclosure. Credit to @alicebell, @beck_smith and the Biochemistry Society for putting it together and hosting it. (And kudos to the cake maker.  I'm an expert on cakes and I have to say the ones last night were very good.)
However I came away slightly disappointed, and that feeling hasn't gone away this morning. I felt that despite the eloquence of the community, their wit, their intellect, they were not being very ambitious with what could be achieved with the medium. There was a focus of being heard: by more people, more clearly and in different ways that couldn't be achieved on paper.  Perhaps that was the design of the event or the limitations of the community.
My background is with govt and civil society bloggers. We've seen some incredibly innovative uses of the internet to improve our democracy, to change the way it has been reported on, to hold our politicians and governments to account.
So where in the science world are the equivalents of Guido Fawkes questioning the clsoed shop academic hierarchies.  Where are new uses of twitter? The science equivalents of #uksnow or EyeSpyMP. Who is shining Sunlight on how funding operates or making the data available in an easy to use way? I'm sure there are some examples, but I wasn't hearing them last night. Let's not just think about the web and blogs as a new medium with which to communicate about science, let's think about it as a medium to communicate in radically new ways about science.  Let's use it to make things better.  Unless of course they are already perfect.