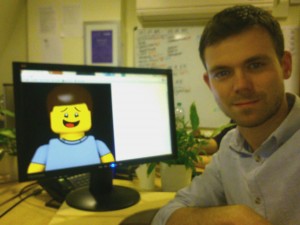 Hello there! My name is Antony, and I am the newest member of the Gallomanor team.
My slightly exotic surname belies my real origins in the city of Leeds, but I have been living in the South West for the last year and a bit. I have just completed my M.Sc. in Science Communication at UWE and I am now a Project Wrangler working on I'm a Scientist and I'm an Engineer. At the moment, however, I am mainly working hard on getting up to speed with everything that goes into making these events happen! Luckily, I feel I'm settling in fast thanks to the lovely team here. They are helping me through patience, pizza and a photo-realistic Lego avatar.
Before my master's I studied for a bachelor's in neuroscience, and between these two life events I was lucky enough to work abroad in Canada and New Zealand. Whilst out there I found that, no matter how beautiful the scenery, I was completely unable to stop talking about science and rambling on about new ideas I had heard on obscure podcasts. On my return I decided that I should at least be getting paid for this service, and set my sights on a career within science communication.
So over the last year I have got myself involved with as much as I can. On top of my course I have volunteered at science festivals, presented a weekly community radio show, performed at Science Showoff, and edited the science section of the university newspaper. I have also started a local science communication group, Rising Ape, with my former course mates, where I produce podcasts and science pub quiz events.
At Gallomanor I hope to learn buckets about what it takes to run a hugely successful science engagement project. I've already started moderating and have been mightily impressed with both the students' thoughtful questions and the scientists' insightful answers. Most of all, I'm excited for the upcoming British Science Week Zones, so I better get back to work and wrangle those wily projects to the ground.
Until then, watch for my posts under my hip new street name. Modantony, out.