Hello! I'm Michaela, the newest member of the team here at Gallomanor who will be working on the I'm a Scientist and I'm an Engineer projects.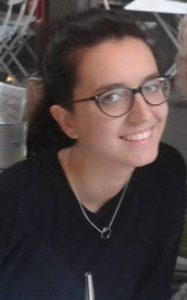 I grew up near Bath but have lived elsewhere for a while, only moving back here earlier this year. My background is in visual arts and I studied for my bachelor's in Cardiff. During my degree I got involved with local galleries and organisations, and I realised that what I enjoyed most was helping to run different projects.
After my degree I moved to Belfast, where I spent two years working at Catalyst Arts, a not for profit arts organisation. My job involved keeping the office organised and making sure we applied for funding on time, as well as helping to programme and run lots of exhibitions and public events within the gallery and throughout the city. I was involved in facilitating things like a residency programme where we sent an artist to sea on board an oceanographic research vessel, and was also part of a board who ran a live art and performance festival in 2015.
I've already worked on a couple of events here and I've been so impressed with the amazing questions and answers I've seen so far! It's been a lot of fun and I'm learning loads along with the students. Everyone has been lovely, I'm settling in well and am looking forward to the next event!